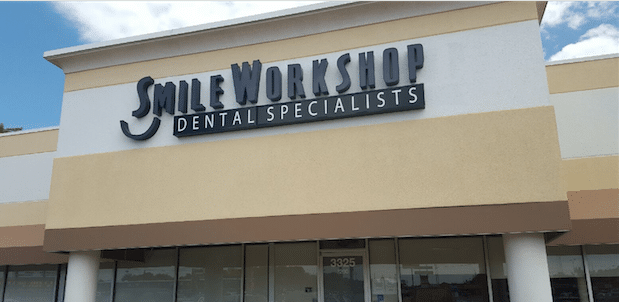 Monday – Wednesday: 8am – 5pm
Thursday: 9am – 6pm
Friday: 9am – 2pm
Saturday: 9am – 3pm
Sunday: Closed
*Hours vary by location
Specialty Dentist in Amarillo, TX
When your family needs a specialty dentist in Amarillo, come to Smile Workshop Specialty. Our specialty dental office is located at 3325 S. Georgia St. #200 Amarillo, TX, 79109. Smile Workshop Specialty provides a wide range of care to meet your family's specialty dental needs. Our specialty team in Amarillo is equipped with cutting-edge digital technology, ensuring a pleasant dental experience.
Our specialty dental practice can provide your family with virtually all dental services. Here are the specialties we offer:
Pediatric Dentistry in Amarillo
One of the perks of being a patient at Smile Workshop is that we are a family dental practice. We work with patients of all ages. You're never too old or too young to not care about your oral health! Our on-site pedodontists are dentists who specialize in pediatric dentistry. The American Dental Association recommends that parents bring their children in for a dental visit by the age of 6 months old or when their child begins growing his/her first tooth.
Orthodontics in Amarillo
Our orthodontists are especially skilled at helping anyone needing teeth alignment. Teeth alignment is critical to oral care and if left untreated, can cause pain and major dental problems later in life. We can also offer Invisalign® and InvisalignGo®.
Endodontics in Amarillo
We have a team of expert endodontists who can treat everything from root canals to traumatic oral injuries.
Oral Surgery in Amarillo
From teeth whitening to veneers, our team of dental experts can help you with all cosmetic dental procedures.
Where is Smile Workshop Specialty Located in Amarillo?
Our address is 3325 S. Georgia St. #200 Amarillo, TX, 79109. We're right next to the the Subway at 34th Street and Georgia Street. Book your next appointment online! We can't wait to see your family!
Check us out on Facebook!
¿Necesita trabajo dental?
¡SE HABLA ESPAÑOL!