[:en]In honor of National Gum Care Month, did you know that nearly 50% of all adults aged 30 or older—about 65 million people—have signs of gum disease? What's worse is that gum disease is often linked to other illnesses, making gum care a critical step in your regular oral hygiene routine. That's why celebrating National Gum Care Month is so important to us here at Smile Workshop New Braunfels, who know a lot when it comes to taking care of your gums.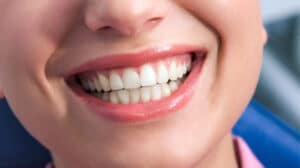 Stick To A Regimented Dental Routine
What better time to develop a routine than National Gum Care Month? When beginning this pattern, the number one thing to keep in mind is preventing a buildup of plaque, which can cause tartar and irritate the gums. To do that, here is what we recommend:
See your local dentist for regular dental cleanings at least twice a year
Brush your teeth at least 2 times a day
Floss your teeth and gums at least once a day
Rinse your mouth out with an ADA approved mouthwash
Avoid Harmful Substances
If there's one harmful substance that puts your oral health at most risk, it's tobacco products. While we understand it isn't easy quitting, focus on the positive benefits of quitting tobacco. You can always talk to your local dental professionals, like our dentists here at Smile Workshop New Braunfels, about your experience with quitting. If you've struggled kicking the habit in the past, he or she may be able to provide you with medication that reduces your cravings for nicotine.
Things To Watch Out For
Have you noticed a buildup of plaque at your gum line? What about bleeding gums? Now may be a good time to schedule an appointment as these may be early signs of gum disease. When it doubt, it's always better to be safe than sorry. Your gums and teeth will thank you for it!
Do you need to have your gums looked at or want to know more about how to take care of your gums? Give us a call or schedule an appointment today!
Image from Thinkstock by Getty Images. Item Number 484231944[:]